The Italian Brat (Jennifer Garcia, author of My Mr. Manny, due August 2013) laid one on me last week, an award for having a versatile blog…. AWESOME!! I love awards! Shinier, the better.
Below, I'd like to share with y'all my award, The Versatile Blogger… Look, but don't touch!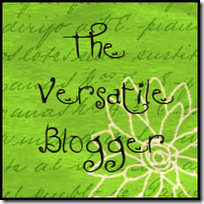 Now, in accordance with this award I have to answer some questions and forward this on to another ten bloggers. So while I do that, feel free to inspect said award, and if feelings of jealousy arise, don't worry, it's natural.
Peas!
B