Aloha Friday! Tour Stop: Great Imaginations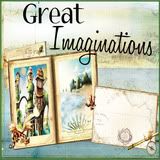 Great Imaginations
Aloha Friday!! As we roar through the last day of this week and into the weekend, stop on by the blog of Great Imaginations where Kara will be hosting me for an interview and her review of The Legend of Lady MacLaoch. Yaya!

Reminder! There are only 2 days left to enter the super awesome blog tour swag giveaway! Stop by today's blog to enter, or add points to your entry. More points = a higher chance of winning! Go go gooooo!!
Giveaway info, click here.